'Incredibly Heartbreaking': No Division III sports at CC this fall
Plus, NCAA issues guidelines on returning to play — but concerns about virus spread remain
Good morning, and happy Tuesday. On this pre-pandemic date last year, Colorado was recovering from severe thunderstorms, with hail, streets flooding, and wind speeds around 70 miles per hour. (Some things never change.)
Today, we break down the implications of the Southern Collegiate Athletic Conference's decision to cancel all Division III athletic competition this fall. We also look at some of the NCAA guidelines around fall athletics, and some of the reasons why the coronavirus might be currently spreading through college sports. 
➡️ICYMI: Yesterday, our resident microbiologist Phoebe Lostroh gave her weekly COVID-19 predictions and talked about coronavirus immunity and antibodies. You might have seen her on TV recently.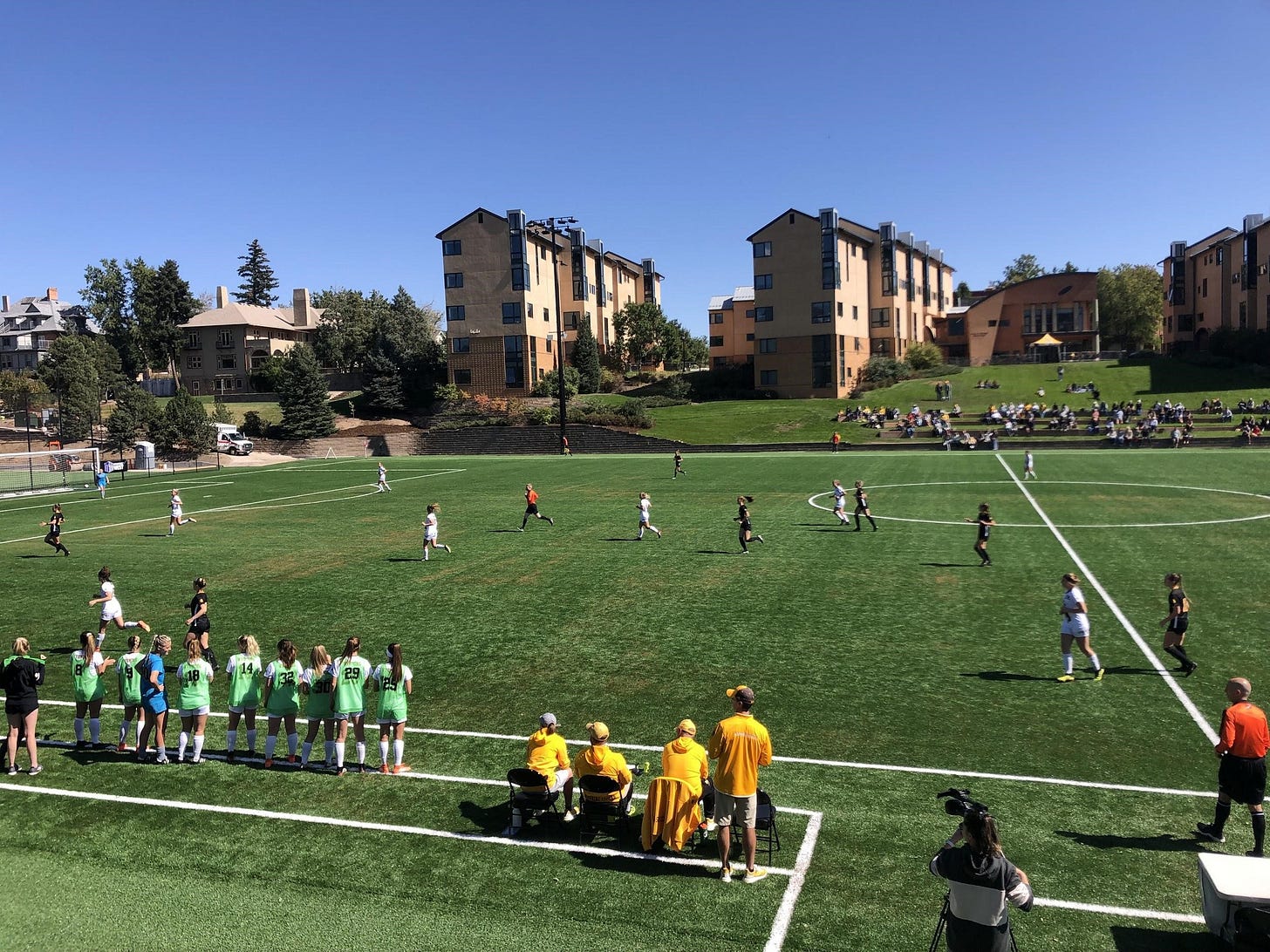 SCAC punts Division III college games for the fall
Last week, leadership for the Southern Collegiate Athletic Conference, or SCAC, unanimously agreed to cancel all fall competition, citing recent spikes in COVID-19 cases in member states. The CC COVID-19 Reporting Project connected with Colorado College's Director of Athletics Lesley Irvine to discuss the cancellation and how it will affect CC's student-athletes.
"I am an advocate for the student-athlete experience, and so it's just — it's incredibly heartbreaking to think about these experiences that are being kind of canceled for our students," she told us.
🏐What this announcement means for fall athletes
The SCAC decision affects CC men's soccer, volleyball, cross country, and the non-traditional fall season for tennis. Now, athletes on those teams won't return to campus until Block 2. 
To most, this decision shouldn't come as much of a surprise. In a Town Hall on Athletics a few weeks ago, Irvine said that discussions surrounding fall competition were "merely a commitment to the possibility of having athletics for those NCAA authorized sports."
"I was very intentional about trying to manage the expectation of our student athletes and their families," she told us now. "And I think they heard that."
Currently, the NCAA championships for fall sports are still scheduled, but with institutions increasingly deciding to punt athletic competition until ... who knows, Irvine anticipates there will be some changes surrounding those championships. 
On Thursday night, Irvine held a Zoom call for CC's fall student-athletes to explain what the coming semester might look like for them. 
"Our message has been ... this doesn't mean you're not going to come to El Pomar in the fall," Irvine says. "You know, we get it. This is a huge part of who you are and what you do. And we're going to get creative to make sure that you're spending time with us."
A couple of the ways Irvine is hoping to engage fall student-athletes:
As long as health and safety guidelines allow, teams can still hold strength and conditioning training and other practice opportunities.

Spending some time in the classroom to discuss mental health, leadership, and anti-racism work on campus.

The conference is currently looking into the possibility of offering some competition in the spring for fall sports, if coronavirus conditions have improved then. 
⏱How the cancellations may affect eligibility clocks and recruiting efforts
Earlier this month, the NCAA DIII Administrative Committee issued "blanket waivers" for all athletes whose team participates in less than 50% of their scheduled competition because of COVID-19. This waiver grants each athlete an additional two semesters, or one academic year, of eligibility. 
In terms of recruiting, CC coaches have not been able to travel, but some competitions and events are live streamed online, and coaches have been able to engage with recruits virtually. The Athletics Department also released a video tour of the indoor and outdoor athletic spaces on campus. 
"The coaches have gotten very creative in recruiting," Irvine says. "It's amazing what you can do virtually. I actually think that it might change the recruiting landscape for the long term." 
🏒What the other conferences CC plays in are saying about their seasons
Colorado College's women's soccer team plays at the Division I level and is a member of the Mountain West conference, which includes schools in California, Idaho, New Mexico, Nevada, and Wyoming. In June, the Mountain West eliminated the six-team conference tournament for the fall season, but remains committed to playing 11 conference games. 
The college's other Division I team, men's ice hockey, plays in the National Collegiate Hockey Conference, which includes schools in Ohio, Michigan, Minnesota, Nebraska, and North Dakota. Ice hockey is a winter sport, so Irvine says things are "still in a holding pattern." Their first game of the season is currently scheduled for Oct. 9 against the University of Maine at the Broadmoor World Arena. 
NCAA releases guidelines, but road to fall athletics remains uncertain 
Some college athletic conferences have been holding out hope for a full fall 2020 season, and athletes began returning to campuses in June. The NCAA has largely left safety and testing decisions up to each school, and some schools have already reported positive COVID-19 results from their players and staff returning to campus this summer. 
The NCAA issued return-to-sport guidelines for college athletics last Thursday. In its guidance, the NCAA suggests daily health checks and tests within 72 hours of "high contact risk sports." Local public health standards apply to all schools. 
📝Wither the whistle: About those guidelines… 
The Centers for Disease Control and Prevention warns that there is higher risk of COVID-19 transmission in any situation where someone spends more than 15 minutes in close contact with an infectious individual. In addition to encouraging daily self-health checks, outdoor training, and physical distancing whenever possible, the NCAA recommends the following:
"Universal masking" on the sidelines. If an athlete needs to run over to the sidelines to talk with a coach, they should have a mask ready. Even better, the NCAA states, is wearing a mask during any land-based activity that requires being in close proximity to other individuals, which may make breathing difficult during vigorous activity. Football teams, for example, may install shields in their helmets to attempt to minimize the spread of droplets.

Working in "functional units." The NCAA encourages teams to divide up into groups of 5-10 individuals who consistently workout together.

Replacing whistles with electronic whistles. Some coaches and referees are switching to handheld devices that elicit a whistle sound from pushing a button. That way, players don't have to worry about a referee's spit flying when they make a call.

Implementing extra testing for sports with "high contact risk." This category includes football, basketball, field hockey, ice hockey, lacrosse, rowing, rugby, soccer, squash, volleyball, water polo, and wrestling. Student-athletes for these sports, as well as people in their "inner bubbles," should undergo weekly surveillance testing.

Same-day travel. Whenever possible, schools should plan to travel and play the same day in order to avoid overnight stays. Teams should also try to prepare prepackaged meals to avoid eating out.

Mandatory 14-day quarantines when someone tests positive. This may include members of an opposing team after competition. 
🤒College sports teams around the country are facing COVID-19 outbreaks
Benjy Renton, a student-journalist at Middlebury College in Vermont, has created an interactive map showing reported COVID-19 cases at more than 50 college athletics programs across the country. "If college athletics were a country, it would be 155th in the world for its high case count, behind Angola," Renton reported in his weekly newsletter on Saturday.
The University of North Carolina at Chapel Hill announced July 8 that 37 of 429 COVID-19 tests given to members of the athletics program had come back positive. The university suspended the voluntary practices and began a 14-day quarantine for individuals who tested positive and for their suspected close contacts. As of July 10, four housekeepers at the university had also tested positive for COVID-19. The housekeepers work in a dorm where members of the football team live. 
💨Why COVID-19 could spread easily in athletics 
Close contact, heavy breathing, and poorly ventilated locker rooms. What could possibly go wrong? 
When people are talking, shouting, singing, or breathing heavily, they expel respiratory droplets, which is one of the main ways the coronavirus spreads. The coronavirus also likely spreads by aerosols, which air currents could carry farther distances. Recommendations have long suggested that people maintain six feet of distance between each other to prevent spread, but some scientists say six feet isn't enough. In fact, some suggest that a better number might be 12 feet for activities that involve heavy breathing — like team sports and other forms of group exercise. But for contact sports, even staying six feet apart isn't much of an option. 
Another aspect of college athletics that could prove problematic is travel. Teams often travel in large buses or airplanes. Colorado College is limiting the capacity of their large buses to 25% of the normal capacity, which means no more than 12-13 passengers, including the driver.
"Unless players are essentially in a bubble — insulated from the community and they are tested nearly every day — it would be very hard to see how football is able to be played this fall," Dr. Anthony Fauci, director of the National Institute of Allergy and Infectious Diseases, told CNN. And that probably applies to more than just football.
About the CC COVID-19 Reporting Project
The CC COVID-19 Reporting Project is a student-faculty collaboration by Colorado College student journalists Miriam Brown and Arielle Gordon, Journalism Institute Director Steven Hayward, Visiting Assistant Professor of Journalism Corey Hutchins, and Assistant Professor of English Najnin Islam. Work by Phoebe Lostroh, Associate Professor of Molecular Biology at CC and National Science Foundation Program Director in Genetic Mechanisms, Molecular and Cellular Biosciences, will appear from time to time, as will infographics by Colorado College students Rana Abdu, Aleesa Chua, Sara Dixon, Jia Mei, and Lindsey Smith.
The project seeks to provide frequent updates about CC and other higher education institutions during the pandemic by providing original reporting, analysis, interviews with campus leaders, and context about what state and national headlines mean for the CC community. 
📬 Enter your email address to subscribe and get the newsletter in your inbox each time it comes out. You can reach us with questions, feedback, or news tips by emailing ccreportingproject@gmail.com.