COVID-19 Forecast for El Paso County – July 20
Plus, our resident microbiologist on how COVID-19 immunity may only last mere months
Good morning, and happy Monday. On this pre-pandemic date last year, locals were gathering in America the Beautiful Park for Springs Beer Fest featuring food vendors and more than 120 different brews. (Want to imagine what an event like that might look in 2020? Here's a hint.)
Today, our resident microbiologist Phoebe Lostroh gives her COVID-19 forecast for the week. We also speak with Lostroh about how much of an effect the state mask mandate could have, and why you shouldn't be worried about news that a Colorado squirrel tested positive for bubonic plague. In case you missed it, the FOX21 TV station interviewed her last week for a broadcast.
Lostroh is a professor of molecular biology at Colorado College on scholarly leave who is serving as the program director in Genetic Mechanisms, Molecular and Cellular Biosciences at the National Science Foundation.
➡️ICYMI: On Friday, we broke down new state guidelines for colleges and universities and explained how Colorado College's plans stacked up. Also, we ran through new fall announcements from Colorado higher-ed.
Phoebe's Forecasts
NOTES: These forecasts represent her own opinion and not necessarily those of the National Science Foundation or Colorado College. She used the public El Paso County dashboard for all data. These forecasts use data as of July 17.
⚖️ How her predictions last week shaped up: July 18 is the last day of Morbidity and Mortality Weekly Report week 29 in the national public health calendar. It is the 19th week since the first case was detected in El Paso County. Since March 13, 120 El Paso County residents have died of COVID-19. Last week, using the most recent trend, Lostroh forecasted 3,367 cumulative reported cases as of July 17, and in reality, there were 3,495 reported cases.
Bottom line: the pandemic is accelerating. On July 19, Colorado was in the top 10 for a New York Times list of states where the virus is increasing most rapidly.
The 14-day rolling incidence of reported COVID-19 cases in El Paso County was at its highest recorded level (125) on July 17. This level is well within the range the Colorado Department of Public Health and Environment regards as "high viral spread," namely 50-100 cases per 100,000 people.

The seven-day rolling percent positivity in testing has risen consistently since June 16 and has reached 7.4%. The percent positivity is 3.5-fold higher than it was on June 16, while the total number of tests is only 1.9-fold higher. So, percent positivity has increased at a higher rate than the increase in testing.

The predicted increase in reported cases has surpassed the "worst-case scenario" that I had been using for all of the forecasts to date. I selected those points for the worst-case because I tried to choose a measured "worst case" that I thought was realistic, instead of the most extreme worst case.

The county allowed gyms, theaters, receptions, indoor water parks, and other indoor businesses to open at 50% capacity on June 29. Since June 29, the number of cumulative reported cases has increased by 1,204. The rolling 14-day incidence per 100,000 increased dramatically in the same time period, from about 58 to 125.
One recommendation: New Jersey, New York, and Connecticut are following the best scientific advice by requiring anyone arriving from a high-prevalence state to self-isolate for 14 days. We should be doing the same. As of July 14, those restrictions apply to people visiting from 22 states.
Predicted cumulative reported cases in El Paso County
🗝️ Key points: These predictions are only accurate insofar as people do not change their behavior; the predictions could change for the better if we changed our behavior.
Number of newly-reported cases in intervals of the same length since the local outbreak began
🗝️ Key points: This is another table showing how the local epidemic is accelerating. To make this table, I divided the number of days since the first case was reported into even intervals, then showed the number of cases reported during that interval.
Projected cases for important local dates pertaining to education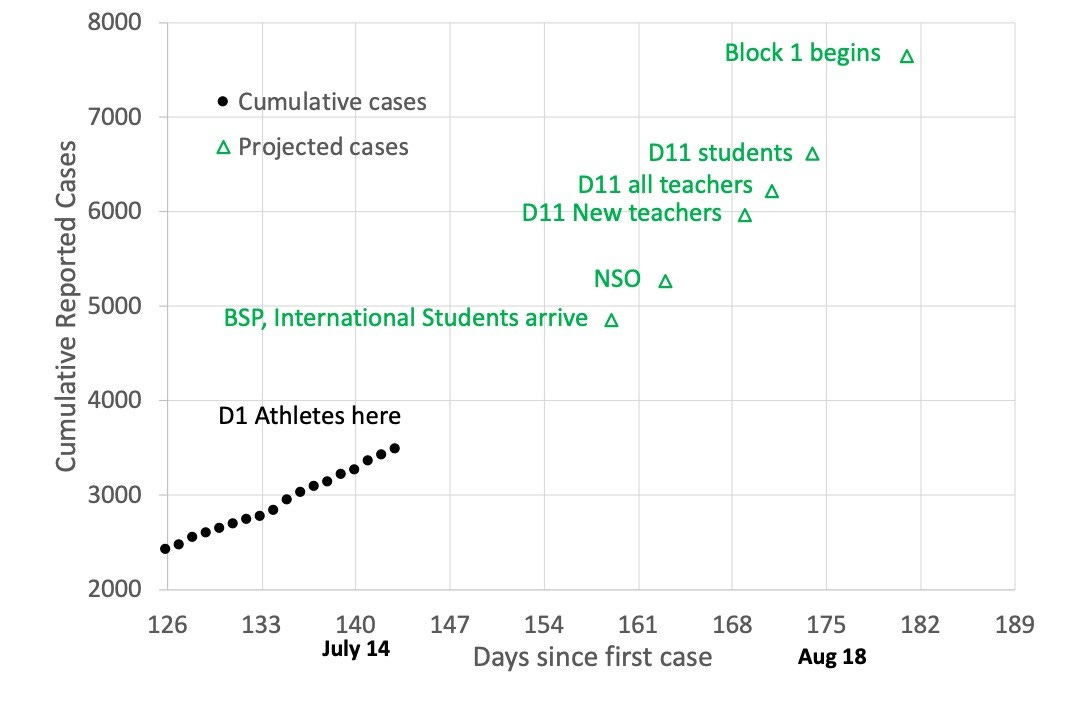 🗝️ Key points: We have 3,495 cumulative cases with Division 1 women's soccer players already back on the Colorado College campus. The first day the Bridge Scholars and International Students will arrive is Aug. 2, on which date I project a total of 4,859 reported cases. On the first day of New Student Orientation, I predict 6,229 cumulative reported cases. The first day of Block 1 at Colorado College is Aug. 24, with a prediction of 7,662 cumulative reported cases.
Prediction for 14-day rolling incidence in El Paso County for the next four weeks
🗝️ Key points: The Colorado Department of Public Health and Environment granted El Paso County a restaurant variance on May 24 and a multi-sector variance on June 29. Those variances are contingent upon the 14-day rolling incidence remaining below a threshold of 100 cases per 100,000 people or an unspecified "high" amount of testing with a "low" percent positivity. We could achieve the optimistic curve by enforcing face masks in public and limiting the multi-sector and restaurant variances. Because of how long it takes for people to get symptoms and seek healthcare, we would first notice the impact of positive behavior change in about two weeks.
Nose Swab Testing for SARS-CoV-2 and Percent Positivity in El Paso County, seven-day rolling averages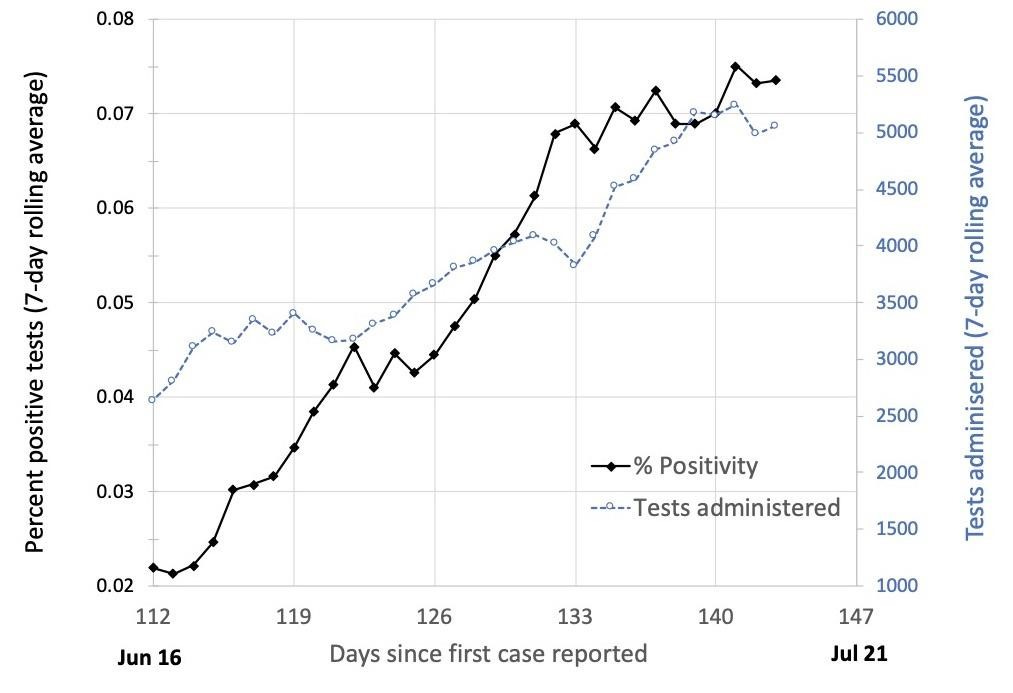 🗝️ Key points: The seven-day rolling percent positivity in testing has risen consistently since June 16 and has reached 7.4%. The percent positivity is 3.5-fold higher than it was on June 16, while the total number of tests is only 1.9-fold higher. So, percent positivity has increased at a higher rate than the increase in testing.
10-day rolling cumulative COVID-19 hospitalizations and deaths in El Paso County
🗝️ Key points: The local hospitals are not publicly disclosing hospital bed or ICU bed occupancy, so we don't know how our hospitals are doing. The rolling 10-day hospitalizations have been increasing since June 26. On a national level, deaths usually lag hospitalizations by 2-3 weeks, but our deaths so far remain low.
People who are sick can receive better care when the healthcare workforce and infrastructure are not stressed. My goal in writing these reports is to save lives. The way to do so is to act several weeks before the situation in hospitals worsens. For us in El Paso County, and therefore up and down the entire connected Front Range, that time is now.
Q-and-A with Lostroh: Our resident microbiologist on the mask mandate and COVID-19 immunity
This interview has been edited for length and clarity.
CC COVID-19 Reporting Project: Democratic Gov. Jared Polis recently issued a statewide mask mandate for Colorado. To what extent could a mask mandate affect the rising COVID-19 caseload?
Lostroh: There are some studies that show a mask mandate could reduce transmission in the community by as much as 70% or more, but I don't know under what conditions those calculations were done. Right now, I think it's still the case that almost all transmission occurs within families. So what happens is somebody gets it outside the home and then brings it home, and then everybody in the family gets it. And so a mask mandate in public would help because we would stop getting it from each other when we're out. So, I think it could really help us, but the effects of it helping could be three to six weeks. There's an article circulating about two hairdressers who tested positive for COVID-19; they and all their clients wore masks, and there was not a single transmission event, so I mean I do think that that's very hopeful. It's an anecdotal study at best, but yes, we should all be wearing masks in public. The thing is, wearing masks is the least of what we ought to be doing at this point.
CCRP: What is this we hear about a squirrel in Colorado testing positive for the bubonic plague?
Lostroh: Yeah, that's pretty normal for Colorado actually. The plague is endemic here in prairie dog populations, and so every once in a while a cat or a squirrel or somebody catches it. You can sequence the whole genome of a bacterium and find out all the genes that it has, and the first strain of plague that ever had its genome sequenced is called CO92: CO for Colorado and 92 for 1992. It was isolated from a veterinarian here in Colorado who was treating a cat that was infected with plague, and the cat sneezed on the vet. So plague is pretty common here in Colorado, and it's easily cured with tetracycline.
CCRP: A new study is suggesting that immunity to COVID-19 from antibodies may only last a few months. What are the implications of this study?
Lostroh: First of all, we never knew if antibodies really did protect you from getting COVID-19. On the other hand, for most viruses, except for HIV, having antibodies does seem to protect you from at least getting those serious manifestations of the disease. Second of all, the cells that make antibodies can be longer lived than the antibodies themselves, so people who once made antibodies, they could have those cells in their body sort of waiting to spring into action if they get exposed a second time. So, they could have some protection from the most serious forms of the disease, if they get it a second time. But there are four coronaviruses that cause the human cold, and we know that people can get them over and over again for their whole lives. So, by that example it's not a good sign. We know for sure that people who had serious symptoms from SARS-CoV-2 have way more antibodies than people who had mild symptoms. So all those people who had mild symptoms or were asymptomatic, they probably never made very many antibodies to start with ... because to get a very strong immune reaction, there needs to be a perception not only of foreignness but also of danger. Without a danger signal, the B cells and T cells don't react as strongly, and therefore don't result in as much antibody and other kinds of immune chemicals being produced. Ideally then, a vaccine that's not made of coronavirus itself but is some other genetically engineered strategy or the modern RNA, would be expressing the virus spike protein to get an immune reaction to it in the absence of any other coronavirus proteins. So it's still pretty hopeful that we could achieve herd immunity through vaccination.
About the CC COVID-19 Reporting Project
The CC COVID-19 Reporting Project is a student-faculty collaboration by Colorado College student journalists Miriam Brown and Arielle Gordon, Visiting Assistant Professor of Journalism Corey Hutchins, Assistant Professor of English Najnin Islam, and Journalism Institute Director Steven Hayward. Work by Phoebe Lostroh, Associate Professor of Molecular Biology at CC and National Science Foundation Program Director in Genetic Mechanisms, Molecular and Cellular Biosciences, will appear from time to time, as will infographics by Colorado College students Rana Abdu, Aleesa Chua, Sara Dixon, Jia Mei, and Lindsey Smith.
The project seeks to provide frequent updates about CC and other higher education institutions during the pandemic by providing original reporting, analysis, interviews with campus leaders, and context about what state and national headlines mean for the CC community.
📬 Enter your email address to subscribe and get the newsletter in your inbox each time it comes out. You can reach us with questions, feedback, or news tips by emailing ccreportingproject@gmail.com.