Virtual orientation & athletic guidelines: 1st Town Halls focus on students' returning to campus
Plus, other liberal arts colleges begin the countdown to fall
Good morning, and happy Friday. On this pre-pandemic date last year, local residents were listening to the Mississippi Mudders perform at Jazz in the Parks at the Broadmoor Community Church. (This year's Jazz in the Parks June and July events are canceled, but a few small concerts may take place in August.)
Today, we recap what you might have missed in two of this week's Town Halls, and what liberal arts colleges are telling their communities about fall plans.
➡️ICYMI: Yesterday, we explained how the Colorado College Counseling Center has transitioned to virtual sessions, and why some critics think college students can't be trusted to follow safety guidelines this fall.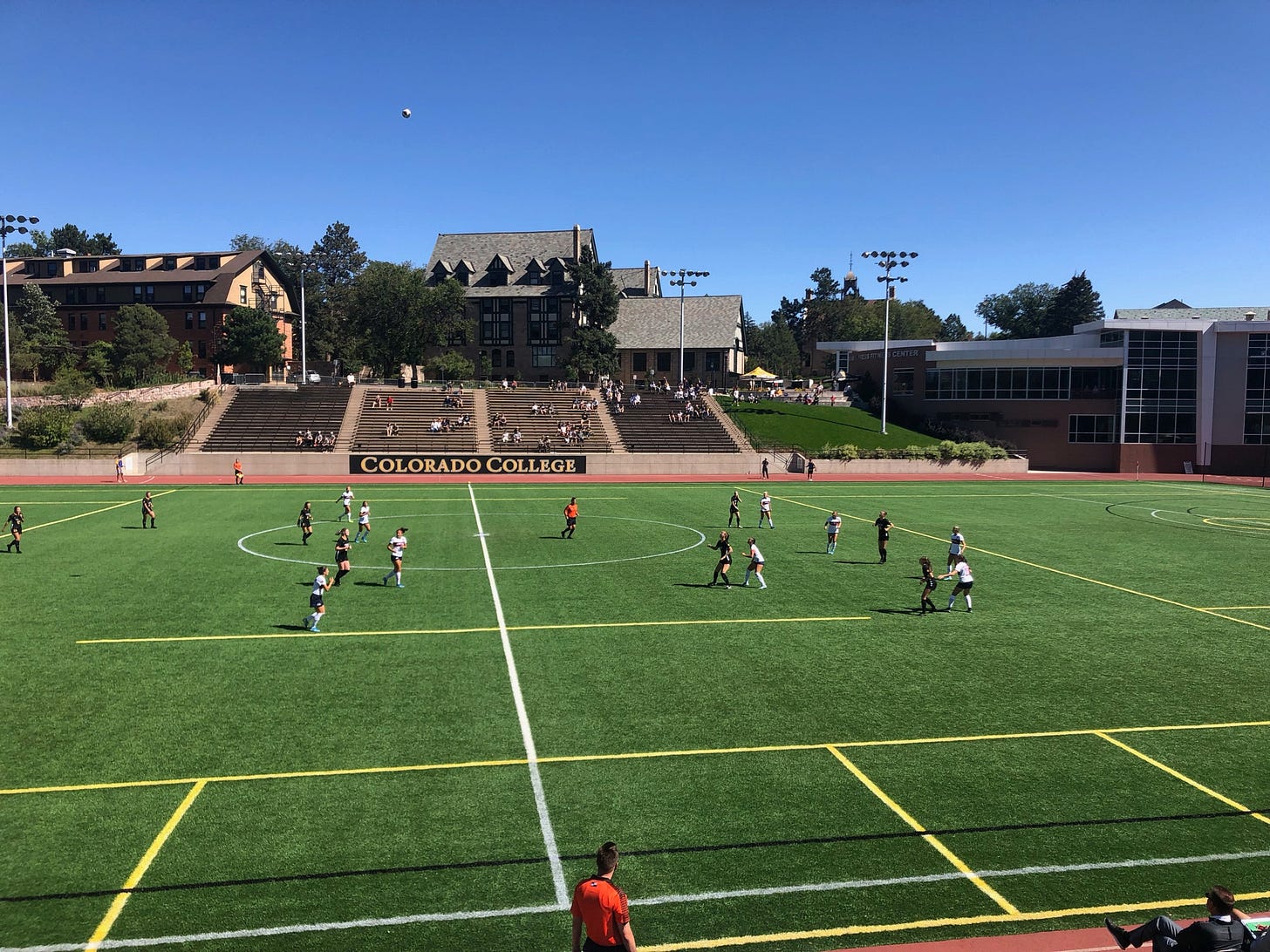 What you missed in Colorado College's Town Halls
This week, Colorado College hosted three town halls: one for new students, one for CC employees, and one for student-athletes. If you didn't attend, we'll recap what you missed at the new student and athlete sessions, and next week, we will recap yesterday's town hall for CC employees.
New Student Town Hall: What first-year students can expect from move-in and NSO
HOUSING: Though Colorado College will not have any triple-occupied doubles next year, most first-year students can expect to have a roommate or two this fall in regular double and triple rooms.

MOVE-IN: RAs will don masks and smile with their eyes to greet new arrivals. Students will have to register for a move-in date and time and can only bring one guest. Family programming during move-in will primarily take place online.

ORIENTATION: Prior to move-in, first-years will complete online Canvas modules and can participate in online meet-and-greets and community building activities. The NSO itinerary on campus will have a hybrid model, using both face-to-face and virtual platforms. Priddy trips will be local, partnering with different service providers to do community work.

TRANSFER & INTERNATIONAL STUDENTS: Incoming transfer students may move in during Block 1, but their classes will be online. The college will expect them to participate in NSO activities regardless of location. Similarly, if a new student from outside of the U.S. is enrolling in online classes, they will still participate in NSO programming remotely.

GAP YEARS: The Office of Admission is working to reopen the request process for incoming students who want to take a gap semester or gap year. Once the request window is reopened, students will only have a short time to make their request. "It's important that you know that when you're requesting a gap year or a gap semester, you need to have something meaningful to do during that time," said Amy Hill, Director of Campus Activities & Student Orientation.

BRIDGE SCHOLARS: The Bridge Scholars Program will still take place during the two weeks before NSO, and students will move into their assigned room for the semester to avoid having to change rooms. Courses will be face-to-face, but will also have online components. All off-campus field trips are canceled, and participants should stay on campus during the Bridge weekend.
NCAA Athletics Town Hall: What the fall season may look like
FALL SPORTS: Athletic Director Lesley Irvine clarified that at this point, all discussions about fall sports are "merely a commitment to the possibility of having athletics for those NCAA authorized sports," but are not a final commitment to participate in NCAA competition this fall. Fall sports are: soccer, volleyball, cross-country, ice hockey, and tennis. Only those athletes may return to campus ahead of Block 1.

WINTER AND SPRING SPORTS: Upperclassmen who are winter or spring athletes may not return to campus or use campus facilities until Block 2. Off-season activities such as lacrosse "Fall Ball" would be delayed until Block 2.

SAFETY: In addition to the safety and testing guidelines for the college, return-to-play decisions will be based on NCAA and conference guidance. Before traveling back to campus, athletes will fill out a COVID pre-arrival questionnaire that the sports medicine staff will review. The training room will operate on an appointment-only basis, and will only let in 20 people at a time. Local and state guidelines will determine travel policies, but teams may reduce air travel in favor of playing within driving distance.

ELIGIBILITY: In the past, athletes were required to enroll in three of the four blocks in a semester to be eligible to participate, but this fall, J-Block will count as part of the fall semester; so now students have the option to take three of the five blocks and remain eligible. If the fall season gets cut short, the NCAA may issue eligibility waivers to these athletes like they did in the spring.
Quarantine Upon Entry: Liberal arts colleges brace for fall
This week's college plan update takes a look at what our peer liberal arts colleges are saying. You can find our breakdown of CC's plan here.
Bowdoin College in Maine announced June 22 the only students returning to campus in the fall will be first-years, transfer students, student residential staff, students whose home situations make distance-learning "nearly impossible," and seniors whose projects require on-campus resources. Most students who return to campus will still take their classes online, leave for Thanksgiving, and finish the semester remotely. Students who are not eligible to return to campus will complete the semester remotely. Other information included in the announcement:
All on-campus housing will be in single bedrooms.

No tuition increase for 2020-21.

Bowdoin will not participate in fall and winter varsity athletics.
Colby College in Maine announced June 30 the fall semester will begin two weeks early and will finish remotely after Thanksgiving. Students will return to the campus on a staggered basis. The college is offering a "core selection" of online courses for students who do not return to campus. Colby will test all students before they return to campus, and will test everyone on campus twice each week during the semester. They will administer all testing through the Broad Institute, and the college expects to do about 85,000 tests during the fall semester. The college is discouraging travel away from campus and warns that people who leave may have to quarantine when they return. The college is asking all students to stay on campus during October break.
Middlebury College in Vermont announced June 22 all students can return to campus in the fall. Professors will teach about one-third of fall courses online, but students have the option of completing the entire semester remotely. For the 14 days leading up to their return to campus, students should quarantine at home. The college will test students upon their arrival, and while they wait for test results, students will have to quarantine in their rooms. The college will test them again seven days later, and students cannot travel off-campus until they finish the first two rounds of testing, reported The Middlebury Campus.
Swarthmore College in Pennsylvania announced June 30 they will only accommodate around 900 students on campus in the fall, which will allow all students on campus to be in single bedrooms. First-year students, sophomores, transfer students, RAs, and students with other personal circumstances that make distance-learning challenging, will have the option to return. Even for students living on campus, most classes will be remote, and after Thanksgiving Break, classes will be fully remote. Other updates from the announcement:
Swarthmore will not participate in fall athletics.

There will be no tuition increase.

Students, faculty, and staff on campus in the fall will undergo mandatory testing at the start of the semester and throughout the semester. Before returning to campus, they will have to sign a safety pledge.
Williams College in Massachusetts announced June 29 students can return to campus for fall, but a "significant percentage of courses" will be entirely remote. First-year and transfer students may take a gap year and returning students may take personal leave, but they have to decide by July 10. Families cannot enter residential buildings when they drop off students, and everyone else will return to campus in stages, beginning in late August. The college will test all students, staff, and faculty upon arrival and will ask them to quarantine until they receive test results. After that, testing will take place weekly in partnership with the Broad Institute. All tests will be free. More updates:
For 2020-21, Williams will reduce the cost of attendance by 15%. They will not collect a student activity fee and will waive work-study contributions.

Williams will not participate in fall athletics.

The college has the capacity to house 1,600 students in single rooms, with no more than six people sharing a bathroom.
About the CC COVID-19 Reporting Project
The CC COVID-19 Reporting Project is a student-faculty collaboration by Colorado College student journalists Miriam Brown and Arielle Gordon, Visiting Assistant Professor of Journalism Corey Hutchins, Assistant Professor of English Najnin Islam, and Journalism Institute Director Steven Hayward. Work by Phoebe Lostroh, Associate Professor of Molecular Biology at CC and National Science Foundation Program Director in Genetic Mechanisms, Molecular and Cellular Biosciences, will appear from time to time, as will infographics by Colorado College students Rana Abdu, Aleesa Chua, Sara Dixon, Jia Mei, and Lindsey Smith.
The project seeks to provide frequent updates about CC and other higher education institutions during the pandemic by providing original reporting, analysis, interviews with campus leaders, and context about what state and national headlines mean for the CC community.
📬 Enter your email address to subscribe and get the newsletter in your inbox each time it comes out. You can reach us with questions, feedback, or news tips by emailing ccreportingproject@gmail.com.