COVID-19 Forecast for El Paso County — July 27
Plus, our resident microbiologist on variances and what it would take to achieve 'herd immunity'
Good morning, and happy Monday. On this pre-pandemic date eight years ago, a Colorado College alumna was performing in the opening ceremonies of the 2012 Summer Olympics. (The 2020 Summer Olympics are now scheduled for 2021. If the pandemic disrupts the games next summer, officials will cancel the event altogether.)
We gained a lot of new subscribers recently; if you are one of them, thank you — and welcome!
Every Monday, we interrupt our daily briefs to bring you forecasts of the COVID-19 caseload in El Paso County, which includes Colorado College's campus. They come from Phoebe Lostroh, a CC professor of molecular biology on scholarly leave who is serving as a program director at the National Science Foundation. In today's newsletter we'll also interview Lostroh about El Paso County's exemption from state health rules, the local state of the pandemic, and why discussions about pursuing "herd immunity" without a vaccine may be unethical and impractical.
➡️ICYMI: On Friday, we talked to a Colorado College father and son about their research into the effects of the pandemic on college student voter turnout. We also explained the new COVID-19 guidelines in the CC student conduct policy.
📡SIGNAL BOOST: You might have heard how our local coroner and deputy medical director of public health, Dr. Leon Kelly, asked El Paso County Commissioners at last week's meeting: "How many people is the right amount of people to die … for us to do something about this?" This week, Colorado Public Radio's Ryan Warner interviewed Kelly for a must-listen segment on CPR's Colorado Matters program.
Phoebe's Forecasts
NOTES: These forecasts represent her own opinion and not necessarily those of the National Science Foundation or Colorado College. She used the public El Paso County Public Health dashboard for all data. Lostroh prepared these forecasts on July 25.
⚖️ How her predictions last week shaped up: July 25 is the last day of Morbidity and Mortality Weekly Report week 30 in the national public health calendar. It is the 20th week since the first case was detected in El Paso County. Since March 13, 126 El Paso County residents have died of COVID-19. On July 10, Lostroh predicted 4,015 cumulative cases as of July 25, and in reality, there were 4,148 total cases reported. Over a four-week period, Lostroh's predictions have been within a few percent.
The Big Question: Why does El Paso County still have its 'variances?'
In Colorado, a county can ask for an exemption from state health orders and get a waiver, called a variance.
These are the current variances for El Paso County, where Colorado College is located:
So, what do counties have to do in order to obtain their variances? The state health agency, known as CDPHE, states it will "evaluate variance requests based on local epidemiological data to assess whether the county requesting the variance has a disease prevalence that is LOW, MEDIUM, or HIGH." And it has definitions for that.
Here's what they are, in part:
⬇️Low = 25 or fewer new cases per 100,000 people in the past two weeks "in the setting of stable or declining cases excluding cases associated with outbreaks in residential facilities."
➡️Medium = 50 or fewer new cases per 100,000 people in the past two weeks.
⬆️High = 50-100 new cases per 100,000 people in the past two weeks.
The counties can risk losing their variances if local COVID-19 caseloads exceed certain levels. In each variance, the state specifies what that level would be. Last week, the state health agency said 15 Colorado counties were at risk of losing their variances because their caseloads were exceeding the state's "early warning system." El Paso County was on the list.
"El Paso County residents may interpret the variances to mean that we are relatively safe," Lostroh tells The CC COVID-19 Reporting Project. "But actually, we are in higher danger of contracting COVID-19 than we were before the stay-at-home order."
The more the epidemic goes on, she says, the more evidence there is that the virus can cause long-term health problems such as lung, heart, brain, and kidney damage — even for people who are never hospitalized. "We need to take urgent steps toward drastically reducing the spread of COVID-19 locally so that conditions become safer for opening K-12 schools," Lostroh says. "Opening schools after we get the epidemic under control should be our number one priority."
Still, all four variances are in place, and spoiler alert: the forecast is dire.
Speaking of dire, now let's get onto this week's forecast...
Lostroh's predicted cumulative reported cases in El Paso County
🗝️Key points: It took around four months for El Paso County to reach its first 3,000 cases. Lostroh predicts it will take 33 more days to accumulate the next 3,000. The county's average hospitalization rate for the past month is 6.2%, and if people stay in the hospital for about two weeks, Lostroh predicts there will be 78, 91, and 105 hospitalized COVID-19 patients in each of the next three weeks.
Number of new cases in intervals of the same length since the local outbreak began
🗝️Key points: Note that the most recent interval is only 23 days, but all the rest are 24 days. El Paso County residents are in more danger of contracting COVID-19 now than they were before the stay-at-home order. The day before the stay-at-home order went into effect in Colorado, there were 152 reported cases in El Paso County that had accumulated in the first 29 days. (Lostroh's Day 1 is Feb. 27, the first day of symptom onset in a case in El Paso County.) Because people with COVID-19 are usually infectious for about 14 days, let's compare days 15-29 to the most recent interval of the same duration, days 136-150. Between days 15-29, there were 151 cases reported. Between days 136-150, there were six times more (1,009) cases reported.
Lostroh's forecast for COVID-19 cases in El Paso County
🗝️ Key points: The curve predicts 6,371 total cases on Aug. 14, the first day of New Student Orientation at Colorado College. This total comes from more than 2,200 new cases in 21 days. The curve predicts 7,908 total cases on Aug. 24, the first day of Block 1 at Colorado College. This total comes from about 3,800 new cases in 31 days.
Lostroh's prediction for 14-day rolling incidence in El Paso County for the next four weeks
🗝️ Key points: A different way to try to predict how the number of newly-reported cases will change in the short term is to consider the 14-day incidence, which requires adding up all cases reported in 14 days and dividing by 7.15 (because there are about 715,000 El Paso County residents). The horizontal dotted lines show the thresholds CDPHE uses to make policy decisions. El Paso County exceeded the threshold for the first and second variances 15 days ago when the two-week incidence went above 100. It exceeded the threshold for the third variance when the two-week incidence stayed above 25, as it has since day 112 of the outbreak.
Nose Swab Testing for SARS-CoV-2 and Percent Positivity in El Paso County, 14-day rolling averages
🗝️ Key points: The county exceeded the 5% positivity required for the fourth variance 21 days ago. Using these 14-day rolling calculations, the number of tests administered has doubled while the percent positivity has increased three-fold.
10-day rolling cumulative COVID-19 hospitalizations and deaths in El Paso County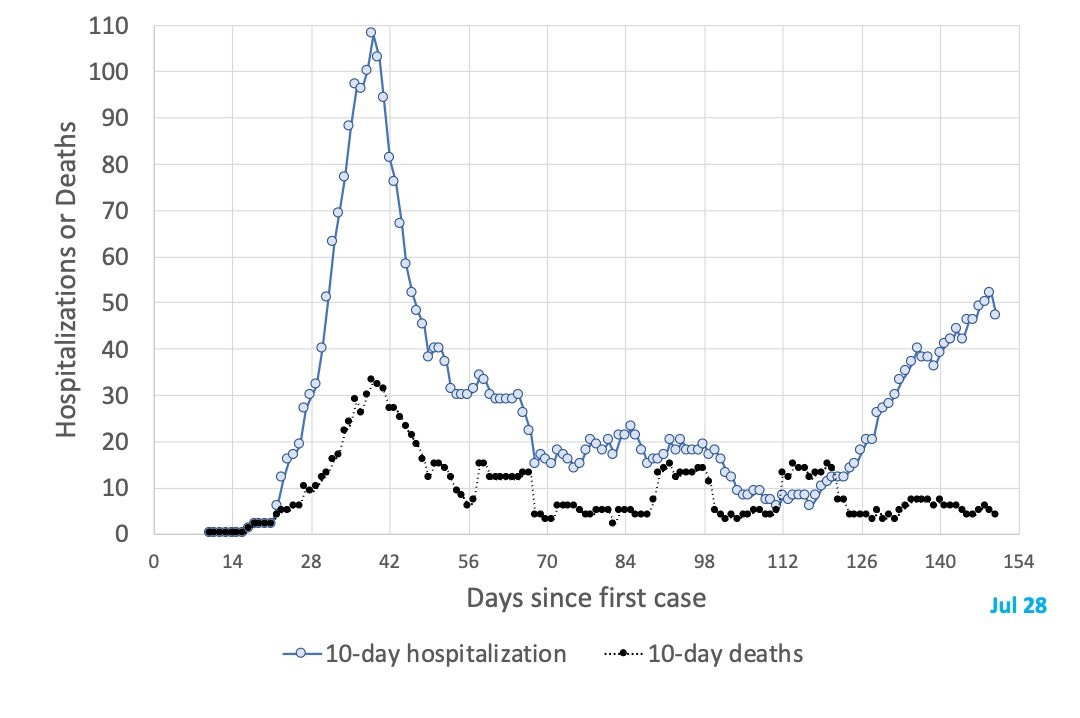 🗝️ Key points: The local hospitals are not publicly disclosing hospital bed or ICU bed occupancy, so we don't know how our hospitals are doing. The rolling 10-day hospitalizations have been increasing since June 26. On a national level, deaths usually lag hospitalizations by 2-3 weeks, but deaths in El Paso County so far remain low.
Q-and-A with Lostroh: Our resident microbiologist on COVID-19 risk in El Paso County and the ethics of 'herd immunity'
This interview has been edited for length and clarity.
CC COVID-19 Reporting Project: Are we in El Paso County at a greater risk going out into the community now than we ever have before during the pandemic?
Lostroh: If you just look at the total number of cases reported in the last three weeks, there were 1,400 cases. So, from the perspective of 'Are you more likely to encounter somebody who has COVID-19 in El Paso County today, compared with before the stay-at-home orders,' you're much more likely to encounter someone today.
Some people might argue that we're in a less dangerous situation now because doctors have better learned how to treat COVID-19. And I think that is probably true to some extent, but I think at the same time, we're also learning that there are all kinds of asymptomatic infections or mild infections where people have serious problems with their lungs when you look at how their lungs are doing, or heart infections. And so I don't think that we are necessarily safer than we were before the stay-at-home. I think we're at much greater risk of exposure, and that we might be in a better place in terms of survival, like in terms of keeping someone alive, but I don't think we're in a better or safer place when it comes to long-term side effects. Or it's not even side effects, just long-term effects, some of which I think we don't really even know.
CCRP: Colorado College recently named you to a campus Scientific Advisory Group to help advise decisions. What has the Scientific Advisory Group been working on?
Lostroh: First of all, I decided to resign from the Scientific Advisory Group because I am not supposed to work for any committees while I'm working for the National Science Foundation. Number two, they are running all kinds of simulations about the best possible testing strategies. ... I actually think that the Scientific Advisory Group thinks that it would be better to test a sample of people every day rather than to test everybody the day they get back. So like 3% of the population every day would probably be a good strategy in terms of finding people who are asymptomatic and who need to be isolated.
CCRP: What is 'herd immunity,' and can it help prevent spreading COVID-19?
Lostroh: Herd immunity is where so many people in the population are already resistant that when someone becomes sick, when the pathogen encounters another person, that person is already resistant. And so the pathogen just dies out without encountering another susceptible person. You probably need more like 80-90% of people resistant to get herd immunity for COVID-19. And so what Sweden found out is that there's no way to achieve that without lots and lots of people dying in the absence of a vaccine. We don't have a vaccine, and we could achieve herd immunity with a vaccine. But it would be unethical to pursue herd immunity without a vaccine because that would necessarily mean millions of people dying and/or getting these long-term symptoms that are associated with having survived. We're nowhere near herd immunity.
About the CC COVID-19 Reporting Project
The CC COVID-19 Reporting Project is a student-faculty collaboration by Colorado College student journalists Miriam Brown and Arielle Gordon, Journalism Institute Director Steven Hayward, Visiting Assistant Professor of Journalism Corey Hutchins, and Assistant Professor of English Najnin Islam. Work by Phoebe Lostroh, Associate Professor of Molecular Biology at CC and National Science Foundation Program Director in Genetic Mechanisms, Molecular and Cellular Biosciences, will appear from time to time, as will infographics by Colorado College students Rana Abdu, Aleesa Chua, Sara Dixon, Jia Mei, and Lindsey Smith.
The project seeks to provide frequent updates about CC and other higher education institutions during the pandemic by providing original reporting, analysis, interviews with campus leaders, and context about what state and national headlines mean for the CC community.
📬 Enter your email address to subscribe and get the newsletter in your inbox each time it comes out. You can reach us with questions, feedback, or news tips by emailing ccreportingproject@gmail.com.