'Ready to Adapt': Campus fitness center reopens with reservation system and split schedule
Plus, more colleges shift gears and prepare for a remote fall
Good morning, and happy Friday. On this pre-pandemic date in 2017, Colorado College alumni were finishing filming "July Rising." The production included 17 current and former CC students, and the film earned the Stolman Award for Best American Indie Feature film at the 2019 Sonoma International Film Festival. (The 2020 film festival was a virtual event.) 
Today, we explain what Colorado College's recently-reopened Fitness Center will look like with new COVID-19 guidelines. Also, we recap how more colleges and universities are switching to a remote fall.
➡️ICYMI: On Wednesday, we talked to Colorado College students and employees about the 14-day quarantine inside Loomis Hall. Today is Day 6 of the #LoomisLockdown.
🔌 LISTEN LIVE: Miriam Brown '21 and Arielle Gordon '21, the authors of this newsletter who you met in a recent issue, are joining today's 9–10 a.m. Colorado Matters show to talk about the #LoomisLockdown. Listen on the Colorado Public Radio site. 
☀️ READ THIS: Some of our correspondents had bylines in The Colorado Sun yesterday on an article headlined, "What it's like for the 100-plus Colorado College students stuck in their dorm after a peer tested positive for coronavirus." Read the article here.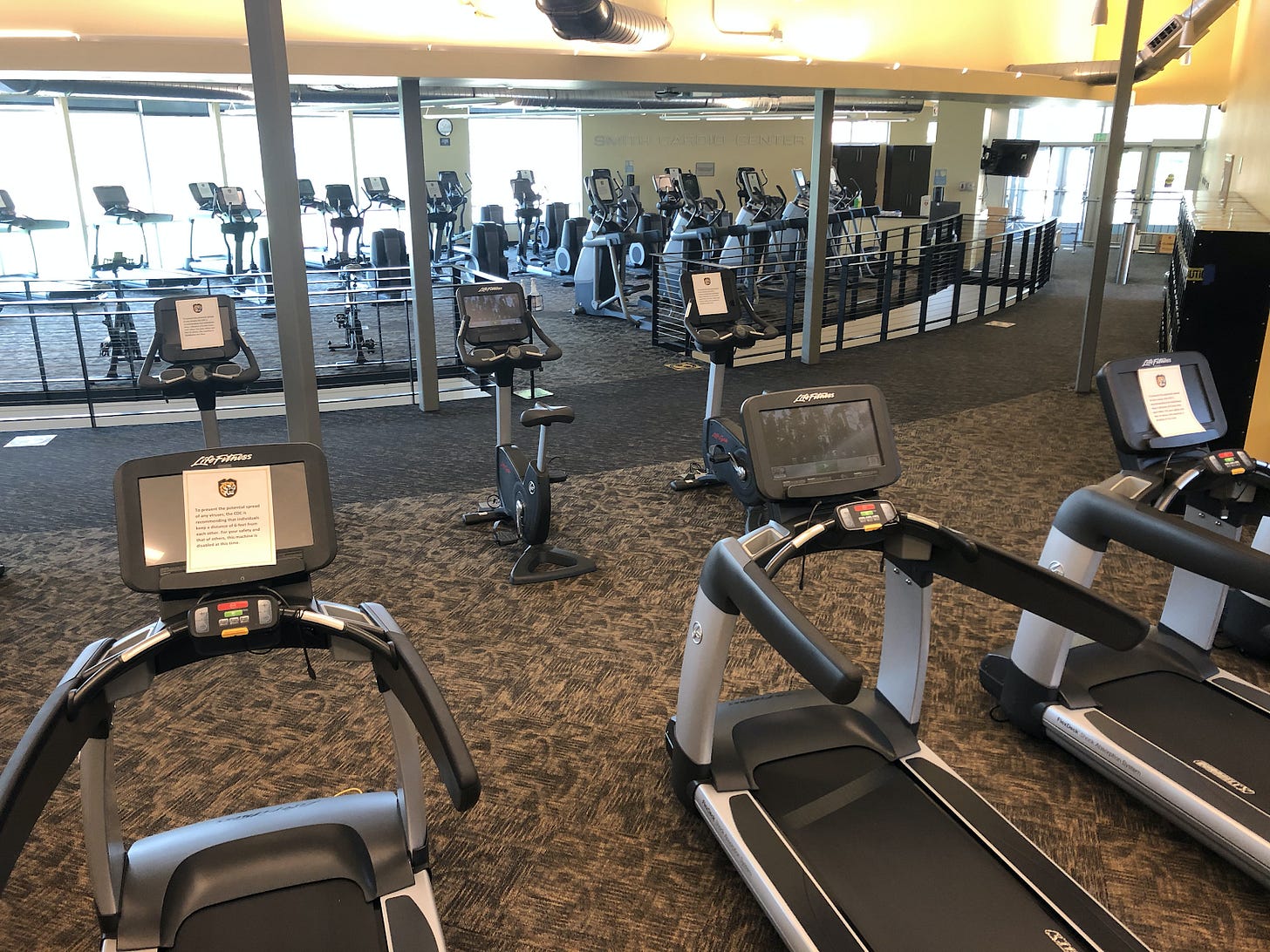 Photo courtesy of Chris Starr, Director of Campus Recreation and the Adam F. Press Fitness Center.
No group classes and spaced-out equipment. Here's what to expect at the reopened fitness center 
The Adam F. Press Fitness Center reopened its doors to Colorado College students and employees Aug. 10, after closing in the spring because of coronavirus concerns. Students on campus received access as part of a "soft opening" July 13, and if all goes well, the operating hours may expand during Block 1. 
To use the facility, gym buffs on campus must first make a reservation online for a 90-minute time slot, which gives them 75 minutes to workout and 15 minutes for staff to clean the used machines. The two-level fitness center is opening in the first of three phases with 25% capacity, or up to 28–29 visitors per floor and seven staff. Hours are restricted to 6:30–11 a.m. and 4–7 p.m. so staff can clean and disinfect in between.
"There's no single marker … that will magically move us to phase two," Chris Starr, Director of Campus Recreation and the Adam F. Press Fitness Center, tells The CC COVID-19 Reporting Project. "I anticipate us being in stage one for several weeks, and then if it's safe and prudent to move then we'll move to stage two."
Here are some of the safety guidelines in place:
All fitness center staff and patrons will undergo temperature checks and complete the college's COVID-19 self-check questionnaire. For fitness center staff, the checks will take place before they come to work, and staff will administer touchless temperature checks for all visitors at the north reception desk, which will have a Plexiglass barrier to minimize contact between staff and visitors.

Visitors must wear masks when entering the facility. When their time slot is up, they should only exit at the east door near the bleachers.

During Phase 1, gender-specific locker rooms, the rec gym, multipurpose room, racquet and squash courts, terraces, lounge, and gaming area will all be closed. No group fitness classes will be permitted during Phase 1.

Equipment will stand at least 10-feet apart to encourage social distancing, and on the cardio floor, every other piece of equipment will be unplugged. The reception desk will not allow checkout of any mats, rollers, or other equipment.

Facilities Services has reset the HVAC system to increase the air exchange.

Spotting for another person while working out on the strength floor is strongly discouraged.

The Fitness Center will assign one roamer to each floor so they can disinfect machines after use and remind visitors to socially distance and clean their machines.

At least once per hour, fitness center monitors will disinfect high-touch surfaces.
"We have to be ready to adapt," Wes Kosel, Assistant Director of the Fitness Center, tells The CC COVID-19 Reporting Project. "So that's been the main change, whereas before all this started you could kind of plan out a month ahead and know what you're going to be doing. And now everything is really not week to week, it's day by day."
🏓What intramural and club sports could look like this fall  
Intramural sports don't begin until Block 2, and students usually participate in ping pong, flag football, outdoor soccer, and indoor volleyball. This year, Starr anticipates primarily offering net sports and outdoor activities. 
Colorado College is home to 15 club sports teams, some of which rely on CC facilities to practice and compete. Starr says plans for club sports will likely mimic protocols for CC varsity athletics. Currently, all varsity sports, except men's ice hockey, are postponed until at least January. Some club teams are a part of national organizations that have already announced delays to their competition schedule, including Cutthroat rugby and figure skating.
"We'll see what the other institutions in the state do, and that'll help drive it," Starr says. 
The fitness center is physically connected to, but technically separate from El Pomar Sports Center. Access between the two is usually unrestricted — pickup basketball players can enter through El Pomar, and varsity athletes will walk through the fitness center to get to practice. However, in an effort to reduce the number of people in either facility, the two are operating independently, and people are encouraged to use the entrance on the side of the building they need to access. 
Shifting into Reverse: Colleges and universities scramble their plans for an in-person semester amid COVID-19 concerns
As higher-ed rapidly approaches the fall semester, some schools originally planning for in-person semesters are switching to a remote fall, citing increasing COVID-19 caseloads in local areas, national public health trends, and issues with testing supplies. 
Here are some of the schools changing their plans: 
Brown University plans to offer remote classes until at least Oct. 5. If conditions near campus improve by Sept. 11, the university will allow students to return to campus beginning Sept. 21 and will limit classes to 20 students. If conditions do not improve, or worsen, the semester will be entirely online. Students who need to return to campus when the semester begins can apply for permission. Any students living on campus, and students who return to live in off-campus residences, will undergo testing twice per week for no charge. 
Johns Hopkins University announced it will conduct the fall semester online, after a recent uptick in COVID-19 cases in the Baltimore area. Students should not return to campus, and they will not have access to any campus buildings. The default grading option this fall is "satisfactory/ unsatisfactory." The university is reducing tuition by 10% and has budgeted nearly $15 million for additional financial aid.   
Lafayette College is offering an entirely remote fall semester, after announcing plans in June to bring students back to campus. Students may request to live on campus this fall, and students who have leases for off-campus residences may return, but all of their courses will be online. The college has invested nearly $1 million in technology for distance learning, wrote president Alison Byerly. The college is canceling its planned 3.75% tuition increase, and students who take classes from home will receive a 10% tuition discount. 
Michigan State University is asking undergraduate students who planned to live on campus this fall to stay home and take their classes remotely, effective immediately. The university will work with international students on their student visa statuses and students who need studios, labs, or other courses for graduation that can't be completed online. Administrators will issue refunds or credits to students who have already paid for the fall semester, and a small number of students who need to do so may stay on campus.
Princeton University was originally planning to bring members of the class of 2022 and 2024 to campus this fall, but announced Aug. 7 all undergraduate education will be remote for the fall. If students are allowed to return in the spring, the class of 2021 will receive priority. New Jersey currently requires people arriving from 35 states to quarantine for 14 days, and the university has not received permission to hold in-person classes, wrote president Christopher Eisgruber. 
University of Notre Dame is suspending in-person classes and enacting remote instruction for at least two weeks after COVID-19 cases keep climbing. Since Aug. 3 the university has had over 300 cases, according to its dashboard. President Rev. John Jenkins said the most infections came from off-campus parties.
University of North Carolina at Chapel Hill is pivoting to remote learning after reporting more than 130 COVID-19 cases in just its first week of classes. Courses in graduate, professional, and health affairs schools will continue "as they are." Students will be able to cancel housing requests without penalty, and international students, student-athletes, and students without reliable internet access or other hardships will have the option to continue living on campus. 
University of Pennsylvania will no longer accommodate undergraduate students in campus housing except for "very limited exceptions" and will hold the majority of classes online. The university will roll back the planned 3.9% tuition increase, and students who have paid housing and dining fees will receive full credits or refunds. An excerpt from the university's announcement about what changed: "The sheer number of students who by Pennsylvania public health recommendation would now upon arrival — or based upon testing or high-risk exposure — need to go into a two-week quarantine is untenable," wrote university administrators. "At the same time, supply chain issues have more severely limited the availability and the turn-around time of COVID testing than medical experts foresaw."
University of Southern California administrators were hoping to receive permission from the state to have in-person courses, but officials have not cleared the university to reopen, so the semester will start remotely Aug. 17. Campus housing is not open, but students who feel they need to return can request to do so. The university is also offering equipment rentals for students who need laptops or hotspots to continue remote education.
Washington, D.C.: After the District implemented quarantine orders for people arriving from 27 states, American University, Catholic University of America, Georgetown University, and George Washington University all announced plans to conduct the fall semester remotely. 
Western Massachusetts: Within days of each other, Mt. Holyoke College, Smith College, and University of Massachusetts at Amherst all reversed their initial fall plans and are no longer inviting students back to campus this fall. "To keep our campus and local community as safe as possible during this period of high risk, we will offer all courses in the fall semester … remotely," wrote Smith president Kathleen McCartney.
For a more comprehensive list of higher-ed institutions reversing course and planning for a remote fall, check out this map by Middlebury College student Benjy Renton.  
About the CC COVID-19 Reporting Project
The CC COVID-19 Reporting Project is a student-faculty collaboration by Colorado College student journalists Miriam Brown, Arielle Gordon, and Isabel Hicks, Journalism Institute Director Steven Hayward, Visiting Assistant Professor of Journalism Corey Hutchins, and Assistant Professor of English Najnin Islam. Work by Phoebe Lostroh, Associate Professor of Molecular Biology at CC and National Science Foundation Program Director in Genetic Mechanisms, Molecular and Cellular Biosciences, will appear from time to time, as will infographics by Colorado College students Rana Abdu, Aleesa Chua, Sara Dixon, Jia Mei, and Lindsey Smith.
The project seeks to provide frequent updates about CC and other higher education institutions during the pandemic by providing original reporting, analysis, interviews with campus leaders, and context about what state and national headlines mean for the CC community. 
📬 Enter your email address to subscribe and get the newsletter in your inbox each time it comes out. You can reach us with questions, feedback, or news tips by emailing ccreportingproject@gmail.com.