'One day you'll just be gone': Interview with Jill Tiefenthaler
Plus, Colorado College says goodbye to those basic Zoom accounts
Good morning, and happy Wednesday! On this pre-pandemic day last year, Colorado College was just beginning Block B of summer session classes on campus. (This year, 422 students are enrolled in 47 "distance-learning" summer classes.)
Today, outgoing Colorado College president Jill Tiefenthaler talks about the move to distance learning for Blocks 7 and 8 and the college's finances. She also discusses what it's like to have two kids at CC while she transitions to the National Geographic Society. Further down the newsletter, we recap some updates about CC's Zoom license from the college's IT staff.
🚨ACTION: We're still seeking opinions from CC staff for a survey about work environments and the college's response to the pandemic. If you are a staff member at CC, please take the survey here, and be on the lookout for a future newsletter with our findings. If you know a CC staff member, please forward them this email.
➡️ICYMI: Yesterday, CC's Doug Edlin explained the legal implications of reopening campuses during the pandemic, and an El Paso County epidemiologist described what contact-tracing looks like here in town.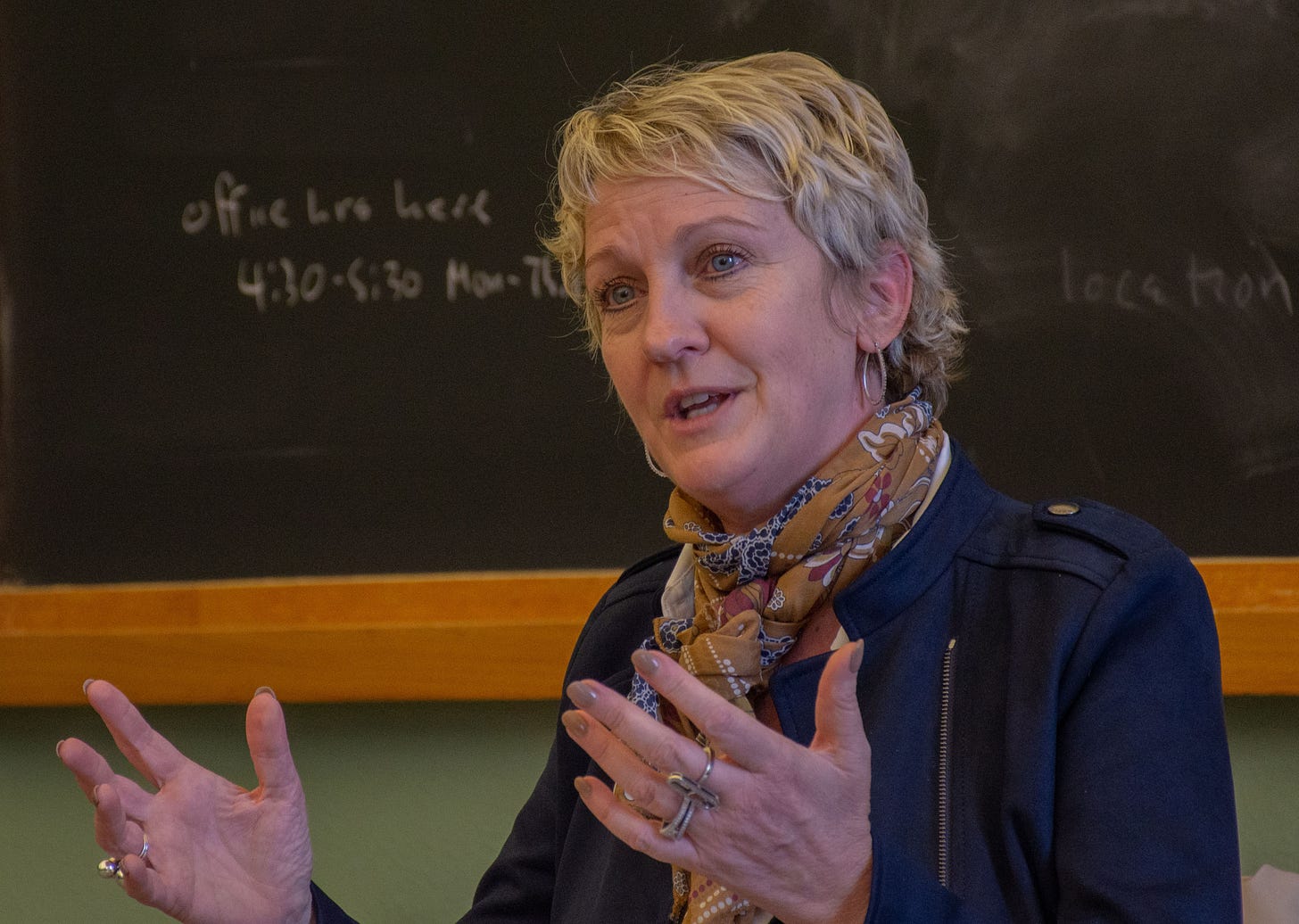 Photo courtesy of Daniel Sarché from The Catalyst, republished with Sarché's permission.
Outgoing President Tiefenthaler reflects on decades-long career in higher-ed
Colorado College president Jill Tiefenthaler announced in January that she was leaving the college this summer to take on a new role as CEO of the National Geographic Society. On Monday, Tiefenthaler sat down over Zoom with two members of The CC COVID-19 Reporting Project to talk about distance learning, what she'll miss about CC, and her new job.
✈️ How Colorado College made the decision to transition to distance learning
In early March, Colorado College already had a faculty group up and running to talk about the transition to distance-learning classes, if the impacts from COVID-19 required it. Tiefenthaler started receiving emails from "highly-placed alumni" saying the virus was spreading and CC should look into closing down. She was traveling at the time, but she flew home early knowing the college had, in her words, "big decisions that had to be made."
Spring break sped up the timeline for making decisions. Some students were about to scatter, flying around the country and maybe even the world, and then would return to campus. Would some be bringing COVID-19 with them? "And at the time — because you know we hadn't prepared yet for a pandemic in the country — we didn't have PPE; we didn't have quarantine space; we didn't know if we had the healthcare that if we had students getting sick on campus, we'd be able to take care of people," Tiefenthaler says.
On March 10, Tiefenthaler and outgoing provost Alan Townsend sent out an email announcing their plans to extend Spring Break by a week and deliver Block 7 courses via distance learning, with a TBD on Block 8's format.
"I was hoping, ... and probably naively so, that we'd be able to bring people back for Block 8," Tiefenthaler says. "And we weren't the only college that didn't make it permanent for the semester."
👩‍👧‍👦 How she feels about the uncertainty of the fall semester, as an administrator but also a mom
Even though Tiefenthaler is stepping down from her role as president, she won't be leaving the CC community entirely anytime soon. In the fall, the outgoing president's daughter will be a senior at CC, and her son will be joining the incoming class of 2024.
"I really would love my son to have the typical first-year experience," Tiefenthaler says. "And I would love my daughter who's a senior to have that amazing senior year that most CC students get."
But she trusts any guidelines that Democratic Gov. Jared Polis and El Paso County officials put out, and she thinks it makes sense for the college to approach the fall semester based on those guidelines.
"You know, we've got to do what we've got to do," Tiefenthaler says. "And this is one of the times that we learn to be resilient and strong and make the best of what life gives us."
💰 How the pandemic has impacted the college's finances
Colleges and universities get their revenue from three primary sources, Tiefenthaler says, all of which have been impacted in some way by COVID-19:
Tuition, room and board, or overall student fees. Colorado College, like many other higher-ed institutions, gave students a "pro-rated" refund of room and board charges for students who had been living and dining on campus. If colleges decide to stay closed in the fall and a large number of students decide not to enroll, the resulting drop in tuition could devastate some institutions.
Endowment returns, (which we will explain more in the next section).
Additionally, Tiefenthaler says the college lost other sources of revenue to the pandemic. The Colorado Springs Fine Arts Center at CC, for example, was not able to put on its regular theater productions, and CC had to cancel its scheduled summer camps and conferences. Should campuses decide to reopen in the fall, there may also be a rise in pandemic-related expenses:
"This fall there'll be huge expenses on PPE and masks," Tiefenthaler says. "And we're putting Plexiglass up and trying to decrease the size of classrooms and working on HVAC ventilation and making sure everything is as safe as it possibly can be."
💵 What role does the endowment play for the college?
You might have heard a lot of references to elusive "endowments" since the pandemic has pushed discussions about higher-ed finances into the spotlight. It's even been the subject of some satire.
CC's endowment was valued at $803,826,656 in June 2019. In January 2019, The Chronicle of Higher Education ranked CC's endowment 143rd out of 809 U.S. and Canadian institutions. The endowment, including decisions on investing and managing it, is managed by CC's Board of Trustees. Current policies allow the Board of Trustees to spend up to 5% of the endowment each year, and that amount is calculated based on the value of the endowment over the last 12 quarters, or three years.
However, much of the money in the endowment is restricted to a specific purpose. Restrictions are legally binding, and the managers of the endowment must abide by them. Tiefenthaler estimates "about 40% of our endowment is restricted for scholarships for students, and that's the largest single category."
Further, Tiefenthaler says the endowment is also intended, "to be kept in perpetuity to benefit not only current students but students in the future."
🧳 What it's like to transition jobs during a pandemic
Two words: "Not fun," according to Tiefenthaler.
The president was looking forward to going through her last rituals at CC: her last honors convocation, her last graduation, her last board meeting, and her last goodbye with faculty and staff.
"So, in addition to not getting to enjoy the best parts of being college president ⁠— commencement and families and that end of the year ⁠— it's just sort of odd to think, like, one day you'll just be gone without being able to say goodbye to people who've been a big part of my life and my family's life over the last nine years," Tiefenthaler says.
Tiefenthaler says it's hard to leave CC — but it's especially hard to leave now. "Not only because I'm not getting to step through and say goodbye to people, but it's a hard time in higher-ed, it's a hard time in the world, and I care so much about the institution," she says. "It's been very hard for me to begin to pull myself out of it because I do just want the best for the college."
💻 What about her new role at National Geographic makes her most excited?
Tiefenthaler will transition into her new role as CEO at the National Geographic Society in Washington, D.C. on Aug. 1.
"I'm very energized by having to learn something really new, and I've always cared a lot about, obviously, the environment and conservation and the natural world," Tiefenthaler says. "I'm not a scientist, so I'll be on a steep learning curve and I'm really excited about that."
Tiefenthaler says National Geographic is just beginning to bring people back to the office, starting with about 50 employees out of 500, with the rest likely not returning to the office until late August. As for what that means for Tiefenthaler? A lot more Zoom meetings.
👩🏻‍🏫 What she'll miss most about CC
Since she first stepped foot onto the campus of Saint Mary's College as a student in 1983, Tiefenthaler has never left college. After Saint Mary's, she went to graduate school, and after that, she transitioned through jobs at Colgate University, Wake Forest University, and Colorado College. She says she loves being around college students and loves the energy and excitement of higher-ed.
"It's been a joy to be around young people, to be around such talented and interesting people, and, you know, to constantly feel like we're pushing the envelope," Tiefenthaler says. "But it's also fun to think now after all this time about a new adventure."
If all goes according to plan, Tiefenthaler will be back on campus for spring commencement ceremonies, where she will receive an honorary degree and watch her daughter graduate with the class of 2021.
ITS acquires Zoom site license for Colorado College students, staff, faculty
Say goodbye to those pesky 40-minute limits on Zoom calls. Colorado College ITS notified the CC community on June 22 that the Zoom licenses they purchased a few weeks ago are now active. Anyone with a CC-affiliated Zoom account can now host a meeting with no time limit. You can find additional information about activating your paid account here.
"It would be hard to run a class in the free version of Zoom," Chad Schonewill, assistant director of solutions services, told The CC COVID-19 Reporting Project a couple weeks ago. "So everybody will get access to the full Zoom, with all those restrictions lifted, basically. And by everybody, we mean all students, staff, and faculty."
Other announcements in the email from ITS include:
CC will transition from DocuSign to Adobe Sign, beginning July 1.

An upgrade to the existing network equipment and fiber connections is taking place this summer.

Zoom and Qualtrics will both be accessible from the Single Sign In page by the end of July.
About the CC COVID-19 Reporting Project
The CC COVID-19 Reporting Project is a student-faculty collaboration by Colorado College student journalists Miriam Brown and Arielle Gordon, Journalism Institute Director Steven Hayward, Visiting Assistant Professor of Journalism Corey Hutchins, and Assistant Professor of English Najnin Islam. Work by Phoebe Lostroh, Associate Professor of Molecular Biology at CC and National Science Foundation Program Director in Genetic Mechanisms, Molecular and Cellular Biosciences, will appear from time to time, as will infographics by Colorado College students Rana Abdu, Aleesa Chua, Sara Dixon, Jia Mei, and Lindsey Smith.
The project seeks to provide frequent updates about CC and other higher education institutions during the pandemic by providing original reporting, analysis, interviews with campus leaders, and context about what state and national headlines mean for the CC community.
📬 Enter your email address to subscribe and get the newsletter in your inbox each time it comes out. You can reach us with questions, feedback, or news tips by emailing ccreportingproject@gmail.com.