Archive this: New CC pandemic project wants your virus stories
Breaking down the J Block, and a summary of your CC inbox
Good morning! Welcome to all our new subscribers, and thanks for following along.
Today, we tell you about a new Colorado College COVID-19 archival project led by the history department and walk you through what a J Block is and how other schools are already using them.
🚨ACTION: We're still collecting student opinions about fall semester and CC's response to the pandemic. Do us a favor and take the survey here, and be on the lookout for a future newsletter with our findings. And please share that link around to your friends.
➡️ICYMI: Yesterday, we briefed you on new antibody testing in the Springs and its availability with CC insurance, recapped the decision to cancel all fall college-led study away blocks, and hit some of the highlights of CC's extended work-from-home procedures.
Save Those Doodles: CC's history department wants your stories for an archival project of 'these strange times'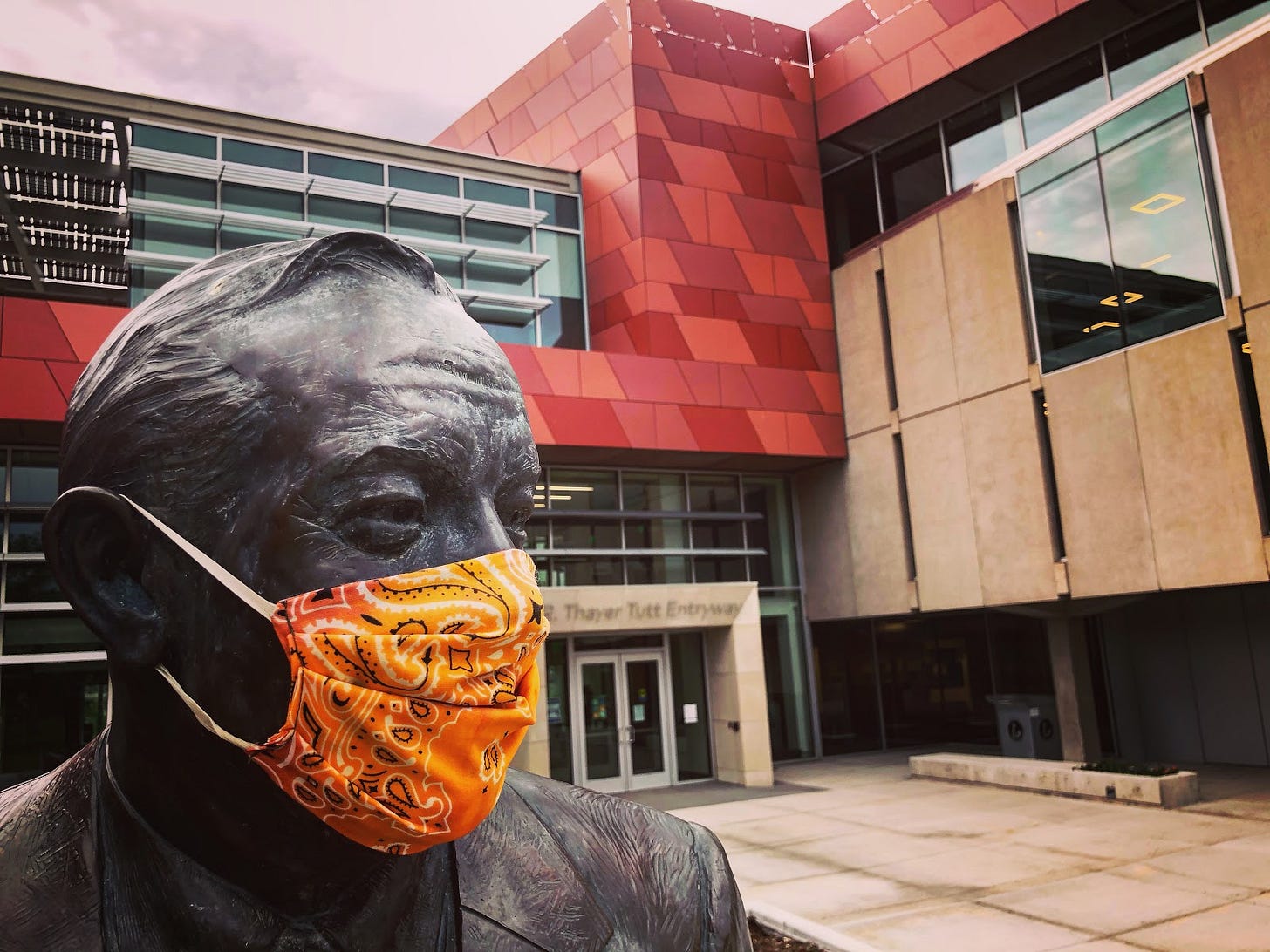 A group of CC students, librarians, and history department faculty are compiling an archive to document the effects of the COVID-19 pandemic on the CC community. It's called the Colorado College COVID-19 Project — not to be confused with our CC COVID-19 Reporting Project. (Clearly we should have coordinated before deciding on names.)
Their project is just off the ground, and the team is working to gauge interest and the availability of materials. Anyone interested in contributing to the archive should fill out this Google Form with information about items they have.
"Everyone's experience during these strange times is different and needs to be told," the questionnaire reads. "Information will be stored in the Tutt Library's Special Collections archives at Colorado College for the benefit of future historians."
There are no limits on what you can submit — think big, think weird, think something personal and meaningful — and categories include creative writing, music, video, and a section to self-describe your work. Once you submit the form, a member of the project might get in touch for more information and further steps. History professor Jake Smith says they could even archive doodles from the margins of a notebook.
"This is the stuff of today's news. It's tomorrow's history," Smith said in a recent Zoom interview.
Professor Jane Murphy is the other member of the history department collaborating on the project. They're working with Archivist & Curator of Special Collections Jessy Randall, Interim Library Director Steve Lawson, and Digital Scholarship and Repository Librarian Cate Guenther. Senior Danny Corrigan, sophomore Star Goudriaan, and senior Samson Heyer round out the team.
How they wind up publicly presenting this archive remains to be seen and will likely depend on the materials that come their way.
Back to CC's Calendar: So what exactly is a J Block, anyway?
If you've been following us from the beginning, you'll know CC recently released a revised academic calendar for the 2020-21 school year, including a new "J Block" in January. This term might be unfamiliar to CC students, so we'll quickly break down what it means and what to expect.
A "J Block" isn't unique to CC — not by a long shot. Other schools around the country have their own versions of it that they've been doing for years.
Here's what some of them look like:
Oberlin College and Conservatory offers a "Winter Term." It's a four-week period in January where students can participate in independent or group projects and work on or off campus. Projects do not have to relate to a student's major, and students may also use the time to complete research or an internship. Students are required to complete three full Winter Term projects, but projects can be either "half" or "full," depending on the amount of time committed to their work: three hours per day for half, and five to six for full.

Middlebury College also offers a "Winter Term," a four-week program in January where students are able to take one or more intensive classes for academic credit or participate in an internship or individual project. Middlebury says they offer more than 100 courses each Winter Term, with Middlebury faculty teaching most of the courses, but visiting, one-time instructors teach other winter courses. Courses are required to meet for a minimum of eight hours per week, over the course of at least three days, and material is supposed to cover the same amount as a 12-week course. (Sound familiar?)
Bates College offers "Short Term," which runs for four weeks from late April to May. It takes place after the spring semester, and professors have the freedom to create their own courses. Students may also opt to do an internship or fieldwork. "You'll live and breathe one class, and one class only," their website says. "It's an immersive experience, often off campus, and you'll be a better student at the end of it."
In other words: these other schools seem to be using a Winter Term program as an annual experiment with a Block Plan-type system. So for CC, it should be a seamless transition to just another block. Students here are already familiar with the concept of a Half Block in January, but next year's J Block will last about a week longer than Half Block, and possibly offer a larger register of courses for academic credit than a typical Half Block.
👀Something to look out for: How CC chooses to integrate the J Block into the infamous point system. TBD on whether or not CC chooses to add to the 40 points students can allocate for classes each semester, or decide on a different selection method for J Block entirely.
Simplifying your crowded inbox:
Members of the CC community receive a lot of emails. Believe us, we would know.
So here are some of the email updates you might have missed:
About the CC COVID-19 Reporting Project
The CC COVID-19 Reporting Project is a student-faculty collaboration by Colorado College student journalists Miriam Brown and Arielle Gordon, Journalism Institute Director Steven Hayward, Visiting Assistant Professor of Journalism Corey Hutchins, and Assistant Professor of English Najnin Islam. Work by Phoebe Lostroh, Associate Professor of Molecular Biology at CC and National Science Foundation Program Director in Genetic Mechanisms, Molecular and Cellular Biosciences, will appear from time to time.
The project seeks to provide frequent updates about CC and other higher education institutions during the pandemic by providing original reporting, analysis, interviews with campus leaders, and context about what state and national headlines mean for the CC community.
📬 Enter your email address to subscribe and get the newsletter in your inbox each time it comes out. You can reach us with questions, feedback, or news tips by emailing ccreportingproject@gmail.com.